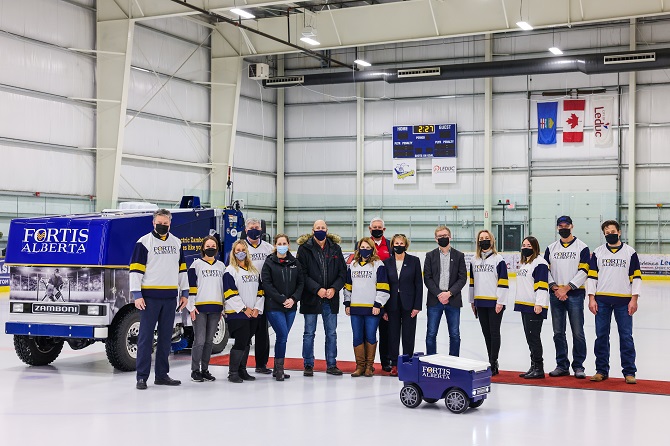 Electric Zamboni unveiling shines spotlight on sustainability initiatives and our commitment to community
Nov 26, 2021, 23:38 PM
On Nov. 19, FortisAlberta, was honoured to have played a role in supporting the Leduc Recreation Centre by unveiling the new FortisAlberta sponsored electric Zamboni for the Centre. FortisAlberta serves Albertans by delivering electricity to the homes, farms and businesses of more than half a million customers in more than 240 communities across the province. In the City of Leduc, we keep the lights on for more than 15,000 residents.
During our visit, Janine Sullivan, President and CEO, presented the new electric Zamboni at centre ice. "We are passionate about supporting the communities we serve in ways that most matter to them," says Janine. "This partnership with the Leduc Recreation Centre is especially exciting as it allows us to support the evolution of emerging technologies and sustainable initiatives that help protect our environment."
The Zamboni features industry-proven battery technology, fully electric on-board controls capable of performing full management of machine functions and diagnostics, and microprocessor-controlled chargers that allow for extended battery life.
We look forward to showcasing more sustainable initiatives as we continue to partner and support our communities.