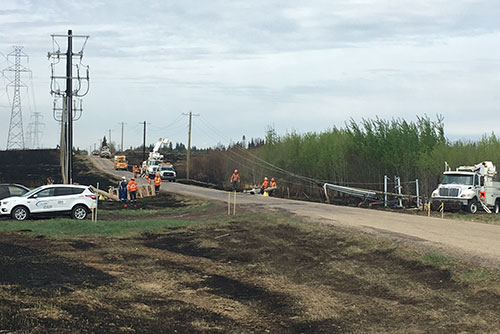 FortisAlberta responds to destruction caused by wildfires
Jun 4, 2018, 20:08 PM
Starting on May 12, two large wildfires in Strathcona County and one in Lamont County near Bruderheim began raging across the area, burning approximately 300 hectares of land. More than 40 poles were downed and 80 primarily oilfield customers were left without power. FortisAlberta was there from the beginning, ensuring customers were informed and a plan was in place to safely restore power once we were given the clearance to start work.

Our Area Manager Wade personally spoke to residential customers who had been evacuated, and our Key Accounts team kept oilfield customers updated throughout the event. We coordinated our response team each day to ensure the safety of our workers and to establish approval for our work locations.

By May 16, local fire crews had the blazes under control and FortisAlberta was able to energize two three-phase lines outside of the burn area, reducing the impacted customer count to 26, of which only one was residential.

A total of seven four-man construction crews, one pole testing crew and one forestry crew then began work on replacing the damaged poles along Highway 562 and the cross-country radials that feed oil taps. Because of the lingering smoke and ash, responders were required to wear appropriate masks and, due to the cross-country and sandy conditions, special equipment including two Nodwells and four Hydrovac trucks were needed for triage and excavation.

The rebuild, which included 43 pole replacements, was complete by Sunday, May 20, at 9 p.m.