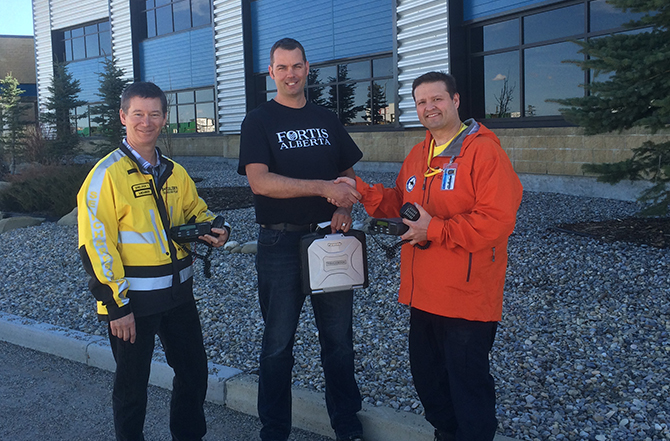 Search and Rescue Alberta gets donation of retired radios and equipment
Apr 8, 2016, 16:22 PM
When our IT Architecture Operational Manager, Rod Doornbosch learned the Company was retiring radios and equipment from several fleet vehicles he saw an opportunity to donate the equipment to Search and Rescue (SAR) Alberta.

"One of my brothers is in Search and Rescue B.C. and when I talked with him, he explained how they have to volunteer to raise money to buy the equipment they use to rescue people," says Rod.

This initiative resulted in a $15,000 donation of radios, cables, antennas and Panasonic Toughbooks to SAR Alberta. FortisAlberta refurbished the equipment and ensured the radios were operating on the correct frequencies for the SAR Alberta team. On Friday, April 1, we met with SAR Alberta President Shane Elder in Airdrie to present FortisAlberta's donation.

Sheldon Leavitt, Supervisor of Corporate Continuity and Security also attended the presentation. Sheldon has been a SAR Calgary volunteer for the past three years.

"We need to stay in contact with our incident management team back at the command post so that we can communicate that we're safe and we're doing alright. Having that timely ability to communicate is critical to the overall success of the operation," says Sheldon. "The donation of these radios will help to make that happen."

SAR Alberta is a provincial volunteer organization performing search and rescue within the province. Their mission is to assist search and rescue teams in their efforts to provide a superior and dedicated level of service to the people of Alberta. SAR Alberta began in the early 1990's as a grass roots initiative that identified the need for trained people to look for lost individuals in wilderness settings.

Today SAR Alberta provides more than $2.5 million annually in support of provincial police, fire, emergency response, security and first aid throughout the province. SAR Alberta is run by its 1,240 volunteers in six regions. They are responsible for ground and inland searches under the jurisdiction of the police within all regions of Alberta.