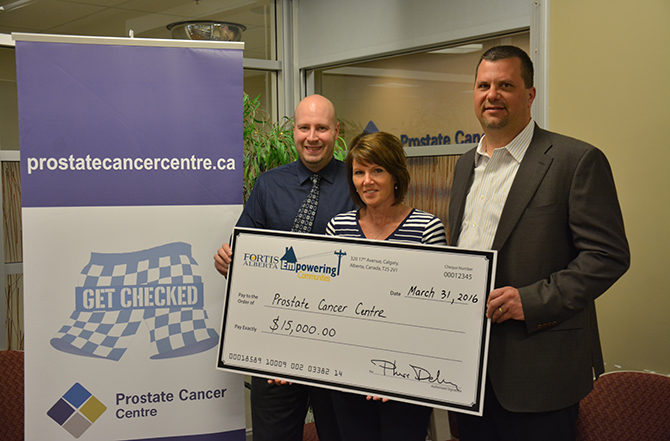 Our $15,000 donation helps employees beat prostate cancer
Apr 6, 2016, 15:31 PM
Prostate cancer affects 1 in 7 men in Alberta, including FortisAlberta employees, but it's one of the most treatable cancers when detected early. That's why we asked employees to support our second annual Man Up Month campaign in February – and, once again, they rose to the occasion!

Last week, Cam Aplin, Vice President, Operations and Executive Sponsor for this year's Man Up Month, visited the Prostate Cancer Centre (PCC) and presented the organization with a $15,000 cheque.

"This truly reflects the generosity of our employees when we can make a big donation like this even in an economic downturn," says Cam. "We met our campaign goal, which will enable us to bring the PCC's Man Van to various locations in our service territory this year."

The PCC's Man Van is a mobile clinic that offers free prostate-specific antigen (PSA) blood tests to men 40 and older. This test provides a baseline number which can help in the early detection of prostate cancer.

"We are so thankful for the innovation of the employees at FortisAlberta," says Kathleen Langner, Communications Manager at the PCC. "We love to see companies working together for a common cause. The fundraising part of the initiative is great, but the spotlight on men's health is equally important. FortisAlberta is a leader in the community and we are so grateful they have chosen to keep the funds local to help our Centre and that this good gesture will spread to other organizations."

Men over the age of 40 are encouraged to regularly get their PSA checked at a Man Van clinic or through their family doctor to ensure early detection.

"The PSA test assisted me in now being cancer free," says Merlin MacNaughton, Supervisor, Stakeholder Relations, Municipal. "However, I know far too many men who still don't get their PSA checked or in some cases have ignored elevated PSA scores which has led to cancer in other organs and their bones. Once cancer is outside the prostate it is often too late to eliminate. Thanks to everyone who supports Man Up Month as it does save men's lives."

How do campaigns like this help the PCC?

In today's economy any philanthropic help is greatly appreciated by the PCC. Their centre receives no government funding and depends completely on the generosity of our community. The financial support received from FortisAlberta goes directly to the Man Van program and in turn the Man Van visits FortisAlberta locations and offers free baseline PSA blood testing to their employees, their families and their customers. All in all it's a terrific partnership!