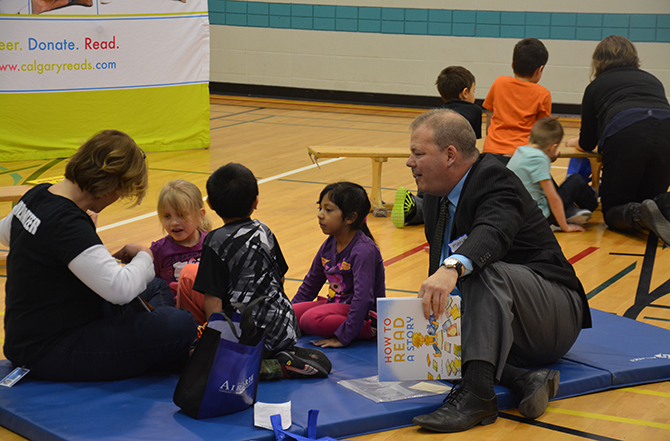 Employee volunteers bring the joy of reading to students
Mar 1, 2016, 16:01 PM
On Feb. 23, FortisAlberta participated in a reading rally at A.E. Bowers Elementary School in Airdrie where our employees read to 60 kindergarten students in the gymnasium. Teachers also entertained us with a reader's theatre performance and special guest Mayor Peter Brown amused the crowd by reading a story about 'how to read a story.'

FortisAlberta has partnered with Calgary Reads since September 2014. As part of our partnership, they created a program specifically for FortisAlberta called 'Rocky View Reads,' bringing their Wee Reads program to all schools in the Rocky View School Division. Employee volunteers from FortisAlberta spend time each week at Rocky View schools reading to young students to develop their reading skills and offer a life-long love of reading.

"We are pleased to partner with Rocky View Reads; their program aligns well with the main goal of our Community Investment program, which is to make a meaningful and positive impact in the communities we serve," says Karl Bomhof, Vice President, Corporate Services. "It also offers our employees an opportunity to have some fun and experience, first-hand, the positive impact these programs can have on kids in the community."

Calgary Reads' mission is to create positive change in literacy outcomes for children by mobilizing business, education and community to care and act together with ingenuity. Their vision is for a thriving community where all children can read with confidence and joy. Today 830 volunteers are reading to more than 1,900 students in 97 schools in Alberta.

Literacy is linked to a range of personal, social and financial benefits, from positive self-esteem to ongoing employment, good health, community engagement, reduced crime rates and even a stronger national economy. We encourage you to connect with the children in your life to create a generation of confident, joyful readers.

To learn more about Calgary Reads please visit their website.