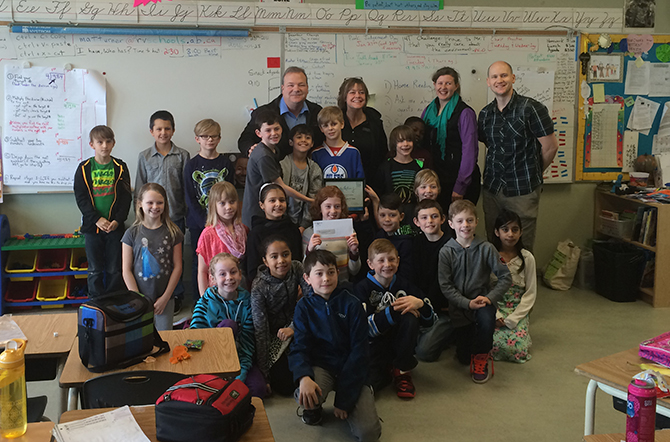 Eco Youth Awards presented to Airdrie schools
Jan 28, 2016, 23:21 PM
In partnership with The City of Airdrie's Waste and Recycling team, on Jan. 28, students at Building Futures, Meadowbrook School and Nose Creek Elementary in Airdrie were presented with Eco Youth Awards, sponsored by FortisAlberta. Presenting the awards was Mayor Peter Brown of Airdrie and Allison Beaudry, Stakeholder Relations Manager.

These awards assist students who are taking action to improve our environment. It also provides youth with the opportunity to showcase their unique strengths and positive environmental impacts.
Award recipients:

Building Futures – Students from all three Airdrie Rocky View High Schools

Students are building an energy efficient gaming den space. They want to make change in their community by leading, developing and promoting awareness of alternative uses of space and energy. They have partnered up with SAIT to help them understand solar panels and McKee Homes to give them support with architectural design. They have altered bikes to use for alternative energy resources as well. The students won $400 to help offset the cost of solar panels and building supplies.

Meadowbrook School – Grade 5

Students have been working hard on sustainability programs. They have a sustainability fair, they plant indoor plants and work on their community garden. They want to expand their garden to the indoor, winter environment by purchasing a tower garden for their school.

The students won $500 to purchase the tower garden and will engage with the Growing Futures program at George McDougall to enlist the help of high school students who share common goals.

Nose Creek Elementary - Grade 4

These students have initiated a small organic waste collection operation in their school. Originally they submitted a proposal to implement organic waste collection in the school. After some long conversations with Rocky View Schools administration, this project and program have some contracts and other exciting administration things attached to the idea. The program was successfully implemented and the students were awarded $300, which was used to go on a composting field trip in partnership with Olds College.

George McDougall High School - Growing Futures Program

Students learn horticultural skills necessary to grow a variety of healthy herbs and vegetables from seed to harvest. Using hydroponic mediums, the students learn how to germinate, re-pot, maintain, and sell their plants. Students also work with the local food bank to supply fresh grown products. They were given $300 to expand their program to include landscaping.