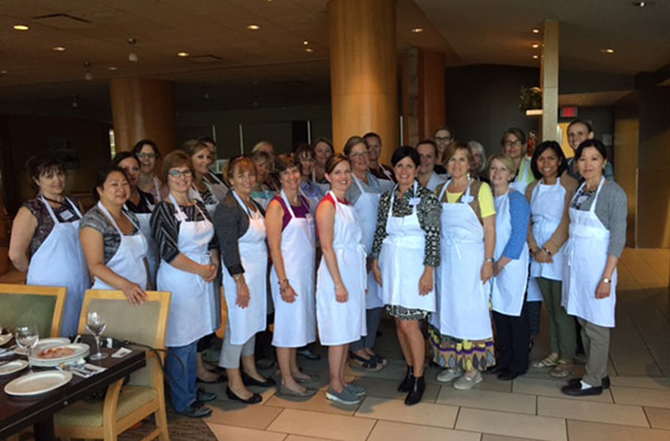 Creating warm hearts through Soup Sisters
Jul 6, 2015, 13:17 PM
What do you get when you combine a group of FortisAlberta's women leaders in a SAIT kitchen with some amazing chefs? More than 100 litres of soup of course!

As part of the Company's Women in Leadership group, more than 30 FortisAlberta leaders recently donated their kitchen-savvy slicing and dicing skills to help cook soup as part of a non-for profit organization called Soup Sisters.

Sharon Hapton, Founder of Soup Sisters, says that her organization has cooked up more than half a million servings of soup to women, children and youth since 2009. "It's a super incredible gift to have you here today to make such a tangible difference. Our mandate at Soup Sisters is to specifically help women take care of each other and nurture each other by warming their hearts with soup."

Also on hand was Shone Thistle, Development Officer for the YWCA. She shared her gratitude as the soup would go to women and children living at the YWCA's Sheriff King Home. The home is an emergency shelter for women and their families who are escaping domestic family violence.

"The last thing these women want to worry about is where their next meal is coming from," says Shone. "Our work is impossible without the help of volunteers like you and organizations like Soup Sisters."

Shone read a letter from a Sheriff King Home recipient. In the letter, the woman shared, "All of our special dietary requirements were fulfilled and the quality of food was incredible during my stay at Sheriff King. This experience instilled hope in me that I held years ago. I finally see the possibility of a better future."

That's what makes it all worthwhile… warming hearts one bowl at a time.