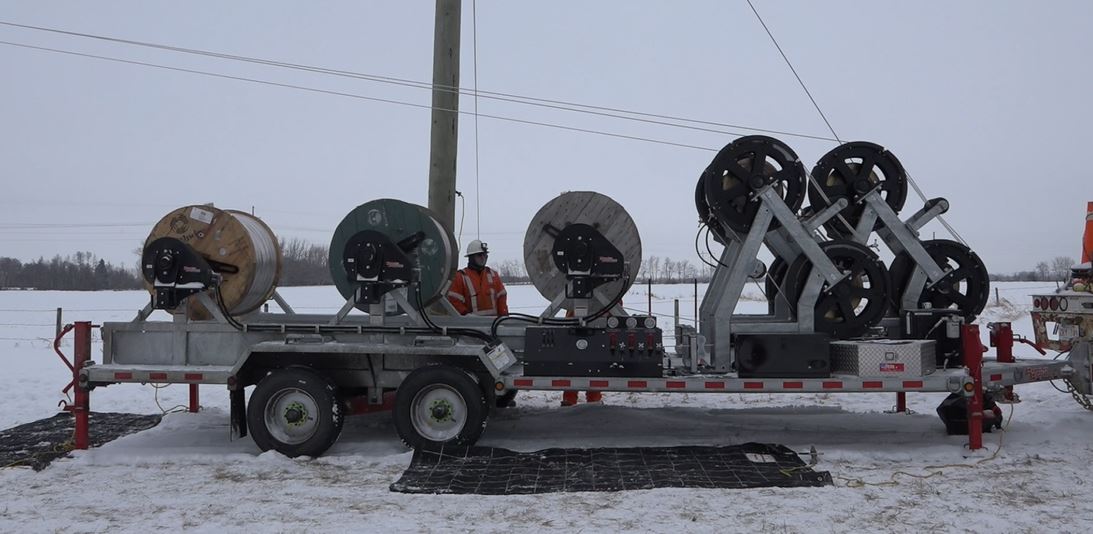 FortisAlberta's innovation helps rein in distribution stringing
Mar 11, 2021, 16:43 PM
When it comes to stringing new wires onto poles, distribution utilities like FortisAlberta have traditionally pulled them directly off reels using friction brakes to help control potential galloping. However, friction brakes are not always reliable, and reels have weight capacity limits; so when stringing three wires at the same time for three-phase poles, it's not uncommon for those wires to gallop out of sync. It is a wild west show that can put workers at risk, especially when stringing new conductors around energized lines.
To mitigate this hazard, the only available option for distribution utilities was to use single reel bullwheel tensioners to smoothly string one conductor at a time.
"Bullwheel tensioning has been used for years in the transmission industry to smoothly string multiple conductors at the same time," says Wayne Holmen, Work Methods Specialist, Taber. "But nothing similar has ever been built for distribution utilities."
For years, Wayne has advocated designing a solution for FortisAlberta, but manufacturers were reluctant to build a "one-of" machine. Wayne eventually secured support including from Brooks Brothers who decided to take the leap of faith and work with FortisAlberta's Work Methods and Fleet teams to design a self-contained, three-reel bullwheel tensioning trailer.
When using the new bullwheel tensioner, FortisAlberta crews will be able to smoothly and safely string new wires around energized lines so customers won't experience an outage during these upgrades.
"If it were not for Wayne's determination and homework, this opportunity would not have come to fruition," says Derek Johnson, Manager, Safety and Work Methods.