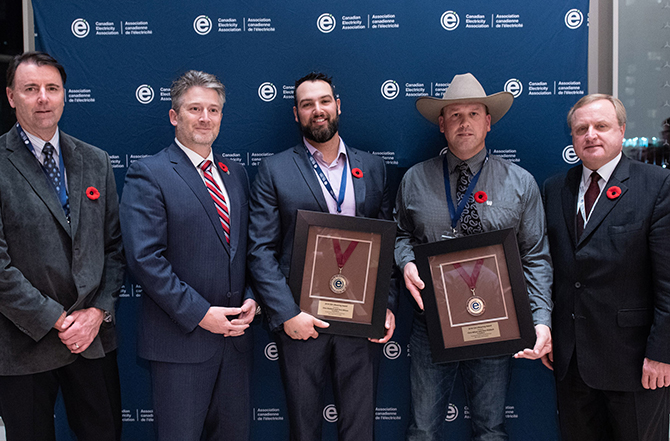 Two PLTs receive CEA Lifesaver awards
Dec 10, 2018, 14:49 PM
On Nov. 7, 2018, two of our Power Line Technicians Dion and Chris received Lifesaving Awards from the Canadian Electrical Association (CEA) at their annual Awards Reception in Ottawa.

In a letter to our President and CEO Mike Mosher, CEA President and CEO Sergio Marchi wrote:
"It is my pleasure to inform you that two of your employees have won the 2018 CEA Lifesavers Award for their actions responding to a car accident and providing first aid to the injured victims. On behalf of all CEA members, we wish to congratulate Chris and Dion for their courageous actions."
"Given the training we receive as linemen working for FortisAlberta and knowing the support we get from our leadership throughout the company, it was an easy decision to help out when we drove up on the accident scene," says Chris.
During the dark, early morning of Oct. 3, 2017, Dion and Chris had just started on their way to Brooks to support storm restoration efforts, when they came upon an accident scene involving a semi and a small car. Turning on their truck's strobe lights, the pair blocked off the eastbound lane so that they could safely attend to any of the crash victims. Inside the car, the driver was in extreme distress and pinned between the steering wheel and the seat.

"It was not clear if anyone had called 911 so we told a guy to call and get back to us, with a time of arrival," says Dion. "We followed our safety training to try to keep him as calm and still as possible because we did not know of the extent of the injury."

Fifteen minutes later, a paramedic on his way to work stopped to assist. Dion and Chris safely broke the passenger side window to enable the paramedic to enter the vehicle to assist the ailing driver. Since it was a very cold morning and the paramedic wasn't dressed accordingly for the weather, Dion and Chris also tried to keep them covered up and warm. Because there was car debris all over the road, the linemen also took the time to clear the biggest parts off the road to avoid cars driving over them. When emergency services arrived more than 20 minutes later, Dion and Chris were asked to stay, help hold flashlights and support where needed until the seriously injured driver was safely removed.