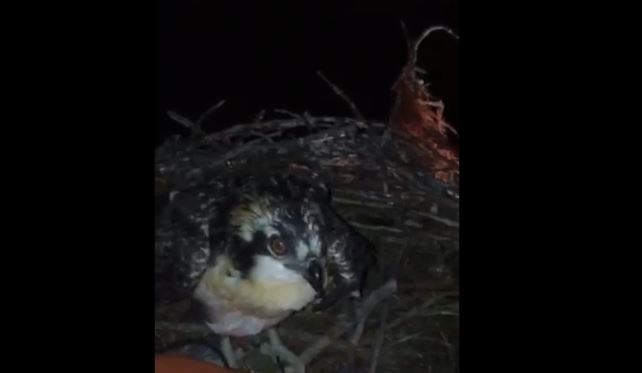 Cochrane PLTs free tangled osprey during night mission
Aug 24, 2017, 15:29 PM
On the evening of Sunday, Aug. 13, Power Line Technicians Ryan and Trent got the call to respond to a customer concern. It was regarding a young osprey in a nesting platform that FortisAlberta had installed by the traffic circle at Hwy 8 and Hwy 22 in Cochrane. The customer – a lady who had been observing and photographing the birds since the spring – noticed that one of the fledglings had been trying to fly, but seemed ensnared in some twine in the nest.

Once on site, the adult ospreys began dive-bombing Ryan and Trent as they approached the structure. Identifying the potential hazards of osprey talons, the duo covered any exposed skin with Trent donning a dirt bike helmet he had on hand and Ryan using a face shield worn backwards to protect the back of his neck.

"When I saw the parents bombing, I was nervous, but once we got up there in the bucket they left us alone," says Trent. "After the young, trapped one nipped at my gloves a couple times, I realized it wasn't so bad; we got more comfortable and knew we could do this."

Trent calmed the young osprey down by covering it in a rain jacket, allowing Ryan to work away at the baler's twine wrapped around its leg. The twine had been used by the ospreys to help build their nest. Watch the video below of the two PLTs calmly freeing the bird.




"It's always a good feeling when you can help out like this," says Ryan. "We knew we had to help out, as there was no way the osprey was going to get out by himself - he was way too tangled up. The people watching us were pretty happy that we had freed it."

"I was super relieved that we did it without hurting the bird – one of the better feelings I've ever had on a call," adds Trent. Although initially worried that the young osprey did not fly away as soon as it was freed, the bird was seen soaring about the next day.