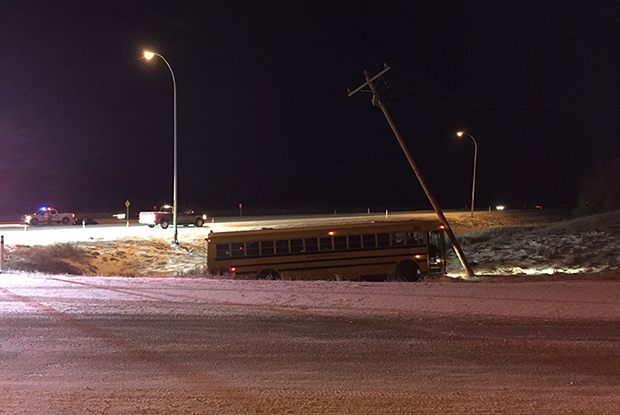 FortisAlberta employee rescues school bus passengers near Stony Plain
Dec 9, 2016, 21:26 PM
At approximately 6:45 a.m., Friday, Dec. 9, a FortisAlberta employee happened upon an accident scene near Stony Plain involving a school bus and a power pole. The pole was broken at the base and rested on the school bus. Understanding the severity of the scene, John Hrasko, FortisAlberta Field and Metering Technologist took immediate action.
John knew that first he needed to ensure that the passengers remained on the bus. When contact with a power line takes place, the object that has made contact may be energized and the ground surrounding the vehicle can also be energized within a 10 metre radius. By exiting or approaching the vehicle a person can be electrocuted. Once John knew the passengers understood the importance of remaining inside, he immediately called the FortisAlberta Control Centre to advise them of the situation and to contact 911.
Within 10 minutes of stopping at the scene, John was able to get the passengers, two children and a driver, safely off the bus. As first responders and others arrived, John ensured that everyone in the area stayed safely away from the broken pole hazard that remained at the scene.
"Considering the extreme cold weather, I can't say enough about how appropriately John acted in this situation to ensure the safety of all involved," says Manny Albert, Director, Safety. "This could have easily had a different outcome if he hadn't happened upon the scene and I commend John for following all of the proper procedures that our employees are trained to do."
FortisAlberta crew members then re-grouped to determine the best way to make repairs. To avoid a lengthy outage, the crew was able to implement a temporary yet safe fix to ensure area residents and businesses did not lose power as the temperature approached -40 C with the wind chill.
"We were able to support the broken pole by securing it to a shorter pole we drove into the ground next to it, thereby avoiding a four to five hour outage to our customers in these frigid temperatures," says Joe Dwyer, Area Manager.
Once FortisAlberta determines the appropriate time to switch out the pole, customers will be notified 48 hours in advance by phone call so that they can prepare.