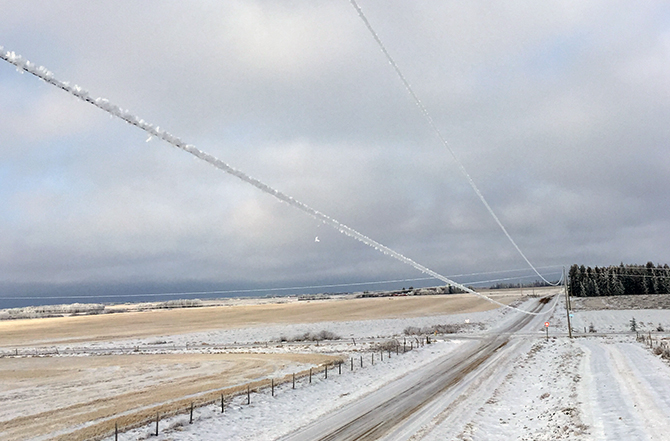 Frosty morning causes outages in central Alberta
Nov 25, 2016, 18:13 PM
Yesterday FortisAlberta experienced outages in the Central/Eastern part of our service territory as a result of heavy frost and galloping lines. Approximately 1,850 customers were without power in pockets off Hwy 13, east of Camrose and larger outages affected the Wainwright and Provost areas.
Approximately 60 Power Line Technicians were mobilized from other areas to assist with restoration, and power was fully restored by the evening. The System Operators and Dispatch also had full hands on deck monitoring affected areas.
"Once the weather cooperated, our restoration efforts would not have come together as quickly without the support of our Power Line Technicians, Dispatch and the FortisAlberta Control Centre," says Chad Gish, Area Manager Red Deer. "The mapping programs that we have greatly reduce the time to prioritize outages and ensure restoration is safe and efficient."
The Contact Centre also pulled together to go above and beyond to help customers during yesterday's outages.
A happy customer called to say thank you to everyone in the call center, dispatch, office and especially all of the PLTs in the field who have been working through the outages due to the frost in the past couple of days. He said "Thanks for doing what you do and make sure to tell the guys look after themselves".