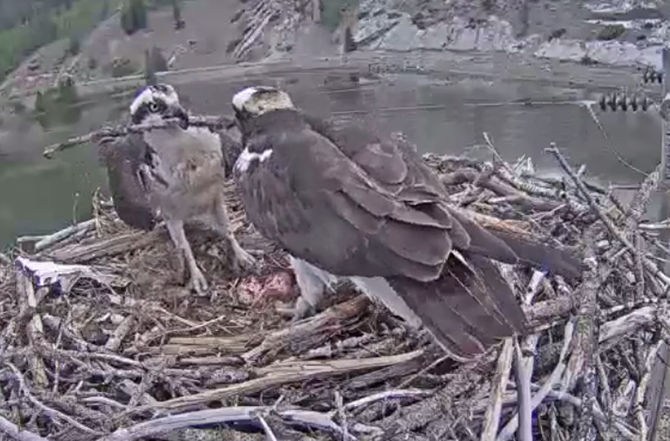 Watch the Ospreys in two locations this year
May 17, 2016, 16:58 PM
FortisAlberta's Exshaw Osprey web cam is up and running and our beloved Osprey couple have returned to the platform and are keeping their three eggs warm.

We installed a second camera near our Employee Development Centre in Red Deer County, and it looks like an Osprey couple has claimed the nest. Watch their nesting activity in the next few weeks, as Osprey typically lay eggs in May. We've also added infrared lights (invisible to birds) to the platforms so we can watch their activity throughout the night.

Watch the Ospreys: on YouTube: https://www.youtube.com/FortisAB or through our website: http://fortisalberta.com/about-us/in-your-community/environment

Typical Osprey nesting activities:

• Mid April – return to nest
• End of April – build nest and mate
• Early May – lay eggs (2-4 eggs)
• May – egg incubation period
• June – eggs hatch
• July – chicks feed and grow
• August – fledglings learn to fly
• September – Ospreys migrate to warmer climates

FortisAlberta protects Osprey and other birds of prey by actively discouraging nest building on energized power poles with deterrent devices, and by relocating Osprey from live poles to pre-constructed nesting platforms on poles installed nearby. Our success with this best practice has seen more than 35 poles installed throughout our service territory. Nesting platforms are part of FortisAlberta's commitment to its bird protection efforts.