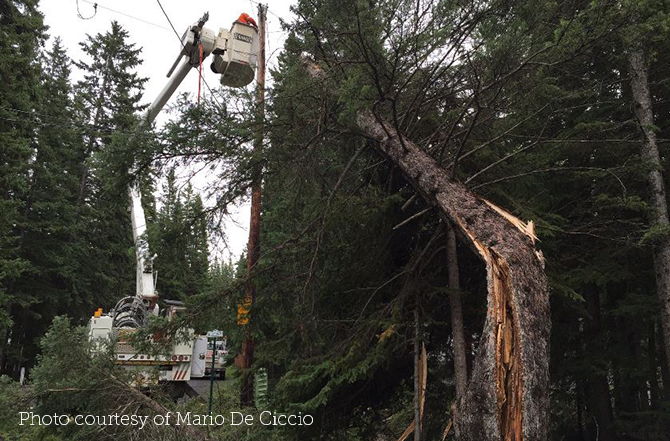 FortisAlberta responds to several outages following severe wind storm
Aug 23, 2016, 14:32 PM
On the evening of Aug. 22, storms with high winds and, in some cases, heavy rain tore through several of the communities we serve. Trees on lines and wires down impacted nearly 2,000 customers. The hardest hit areas included Olds, Sundre, Rocky Mountain House, Westlock, Barrhead and Drayton Valley.

View Global News' coverage mentioning our restoration efforts at this Sundre campground.

As a result of the weather and associated outages, FortisAlberta declared a Level 1 storm event. On Monday evening, crews in these areas were able to reduce the number of outages by about half, with some customers remaining off overnight. Power Line Technicians from other service points were brought in to help get the power on safely and as quickly as possible.

"The weather made for a wild evening, but everyone, from the Customer Service Representatives answering customer calls to the System Operators in the FortisAlberta Control Centre and Power Line Technicians in the field working together to restore power, did a great job of handling the situation for our customers," says Gary Donald, Regional Director.

"We plan and train for these events so that when they happen everyone knows exactly what their role is," adds Gary.

FortisAlberta's Outage Restoration Management Plan (ORMP) is activated when large snow, ice or wind storms take their toll on the electricity distribution system. The magnitude of the event determines the extent of the organizational structure required to effectively respond. The three levels of severity include:

Level 1 – Multiple outages in one service point that require additional resources to manage, but which can be restored within 24 hours

Level 2 – Multiple outages, possibly in multiple service points, that will require additional resources from other service areas and which may take several days to restore

Level 3 – Multiple service points are without power; likely includes major transmission damage and requires assistance from Mutual Aid Partners from outside of Alberta.