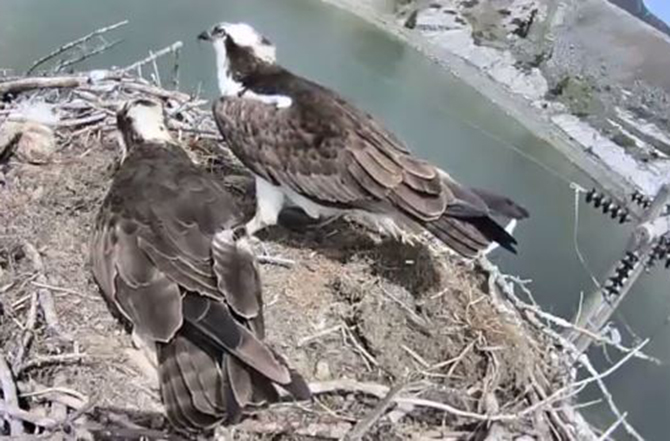 The Ospreys have returned to FortisAlberta's nesting platform!
Jun 2, 2015, 13:36 PM
The Ospreys have returned to our nesting platform in the Canmore area, and are now busy keeping their three eggs warm. Through a live video stream, you can get a bird's eye view with sounds as the hatchlings emerge from their eggs over the upcoming weeks.

Nesting platforms are used throughout the electrical industry as a means to reduce the risk of Ospreys being electrocuted and disrupting power to customers. We have an ongoing Avian Protection Plan, which includes retrofitting our poles to reduce bird interactions and adopting management practices that protect birds.

FortisAlberta protects Osprey and other birds of prey by actively discouraging nest building on energized power poles, and by relocating them from live poles to pre-constructed nesting platforms on poles installed nearby. Our success with this best practice has seen more than 36 poles installed throughout our service territory with more than half of these currently being used. We installed a web cam on one of its nesting platform near Canmore, to give people an opportunity to have a close-up look at Osprey nesting activities.
Ospreys mate for life and will return to the same nest year-after-year after spending their migration south, apart.

Nests are located close to bodies of water as fish make up 99 per cent of their diet. They lay 2-3 eggs in mid-May and hatchlings will emerge in about five weeks. When the fledglings are three months old they will leave the nest.

"Web cams provide an unobtrusive look at the life cycle of the charismatic Ospreys," says Blair Debaar, Communication Specialist. "They can be a great educational opportunity for adults and children."

See our recorded nestling activity here.

Follow us on Twitter @FortisAlberta or on Facebook for updates!