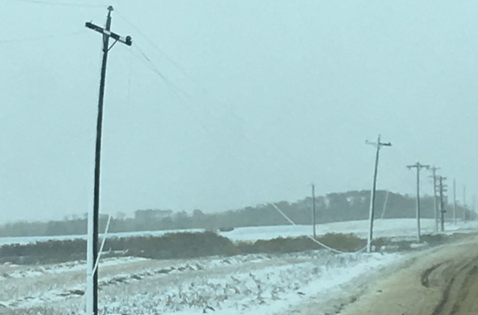 Extreme snow and wind cause outages across Alberta
Oct 2, 2017, 19:01 PM
FortisAlberta is experiencing outages in the Eastern part of our service area primarily in the southeast, as a result of wet and heavy snow and galloping lines. Severe weather with high winds has resulted in trees on lines and wires down.

UPDATE Oct. 2, 6:30 p.m.: As snow storm conditions persist and in some cases worsen in the southeast area, 10,000 customers remain without power. Estimated Restoration Times are dependent on whether the weather improves over the next few hours. Roads remain in highly dangerous condition, and some remain closed. We're working with AltaLink to restore power to areas within the Municipal District of Taber including Lomond, Barnwell and Vauxhall.

We're mobilizing our Power Line Technicians from other areas to assist with restoration. Some roads and highways are closed which may cause restricted accessibility for line repair and so we encourage customers to plan for the power to potentially be out overnight if you're in an area that was hit particularly hard by the snow storm.

If you are without power, please check our mobile app or outage map for estimated restoration times (ETRs) https://service.fortisalberta.com/. Please note, these ETRs will change as damage can be more thoroughly assessed and more information is available. You can also call us at 310-WIRE (9473) where agents are there to assist you 24 hours a day, 7 days a week.