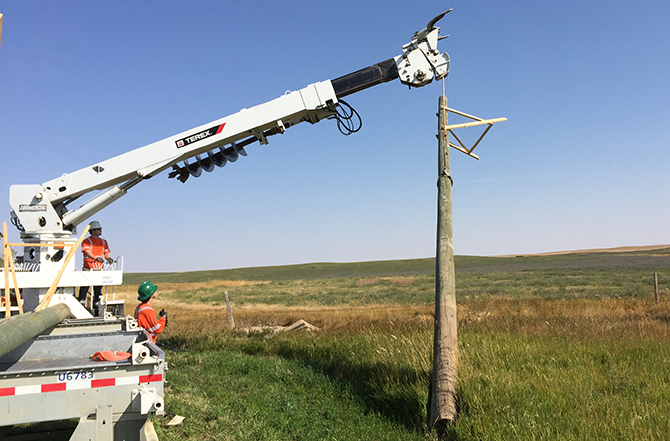 FortisAlberta helps Milk River school enter environmental contest
Aug 30, 2017, 16:36 PM
A seemingly small idea from a few students at the Erle Rivers High School in Milk River turned into a much bigger reality when FortisAlberta was able to get involved. Some employees recently helped the students enter the Caring for Our Watersheds contest to hopefully win funding towards their watershed project. Find out more about the Watershed contest here.

"Good ideas like this really benefit our small schools, but we often can't do it without support from corporations like FortisAlberta," says Erle Rivers High School's Vice Principal, Karen Ellert Garber.

Ken Davis, Area Manager, Lethbridge coordinated a team to install six poles for nesting platforms for Ferruginous and Swainson's hawks near the Milk River.

"This was a great project to help show FortisAlberta's commitment to the safety of hawks and the environment," says Ken. "This project also allowed us to work closely with the school, students and the farmers in the local area."

The students will be excited to get an update on the project when they return to school next week.