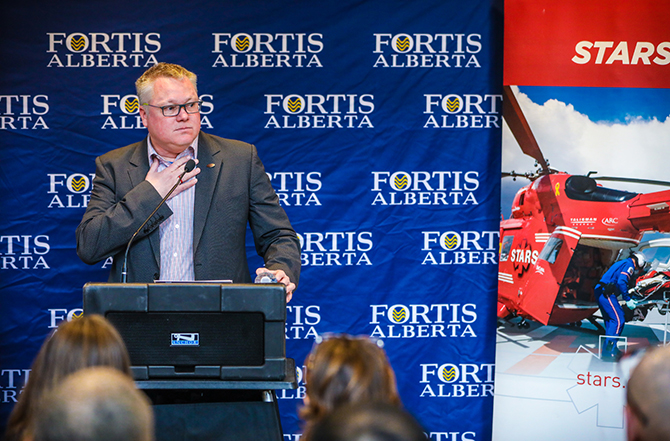 FortisAlberta renews its partnership with STARS
Nov 25, 2016, 10:47 AM
FortisAlberta announced the renewal of its partnership with STARS (Shock Trauma Air Rescue Services) with a donation of $400,000 over the next five years, bringing our total contribution to more than $1.7 million since 2002. This will also mark a twenty-year partnership, making FortisAlberta the longest standing corporate partner of STARS, something that we are very proud of!
On Wednesday, Nov. 16, FortisAlberta employees in Airdrie celebrated with representatives from STARS including Andrea Robertson, President and CEO and Jean-François Bussières, a STARS VIP (very important patient) who shared his very moving rescue story about how he nearly lost his life during a diabetic episode.
"FortisAlberta is proud to have partnered with STARS for the past 15 years and we are excited about the renewal of our sponsorship with this great organization," says Karl Bomhof, Vice President, Corporate and Customer Service, "STARS has provided life-saving service to so many Albertans over the years, including some of our own employees, and we are honoured to continue our relationship."
"If it weren't for companies like FortisAlberta, I wouldn't be standing here today," said Jean- François.
The Company supports the Human Patient Simulator (HPS) program. The HPS program is one of the first mobile medical education programs in North America. It is the medical equivalent of a flight simulator. The HPS is a complex mannequin that closely simulates the human body and its functions. Housed in a mobile unit, the HPS program provides specialized critical care skill training to emergency care providers in their own communities.
STARS is a non-profit, charitable organization providing an emergency air medical transport system to critically ill and injured patients in Alberta and communities in southeastern British Columbia. Ongoing professional development, emergency medical communications, training and research are also significant components of the STARS program. Funding for STARS is provided through donations received from individuals, service groups, businesses and corporations, and through collaborative agreements with Capital Health and the Calgary Health Regions. STARS has flown more than 33,000 critically ill and injured patients since its inception in 1985.