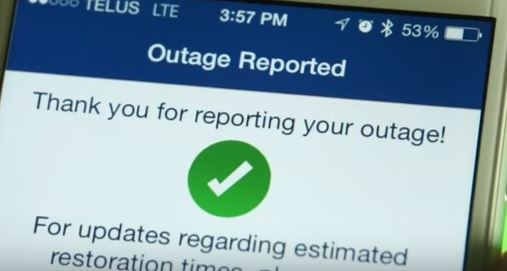 We launched a mobile app to allow our customers to report and view real-time outage information
Jul 9, 2015, 13:04 PM
We're excited to share the release of the FortisAlberta mobile app, along with improvements made to our outage map. Through the App, our customers are able to report outages, view current and planned outages and get the details they need right away.

"Enhancing our customers' experience through technology is a significant priority," says Rob Tisdale, Vice President, Customer and Information Services. "To achieve this, we continue to leverage and implement new technology to provide our customers with greater access to information about FortisAlberta and their electricity service."

With real-time mapping information, customers may view the cause, start time, estimated restoration time and the number of customers affected in their area, regardless of location, all through our outage map. With increased visibility, you will be able to see exactly what area is affected, and may zoom into specific areas to receive more details instantly.

This self-service tool will provide you with the ability to receive relevant outage information immediately, with added functionalities to come in future releases. The Mobile App is available for download on Apple, Android and Windows platforms.

Not familiar with our outage map? Check out this tutorial video by clicking here.

Learn how to use the mobile app with this tutorial.