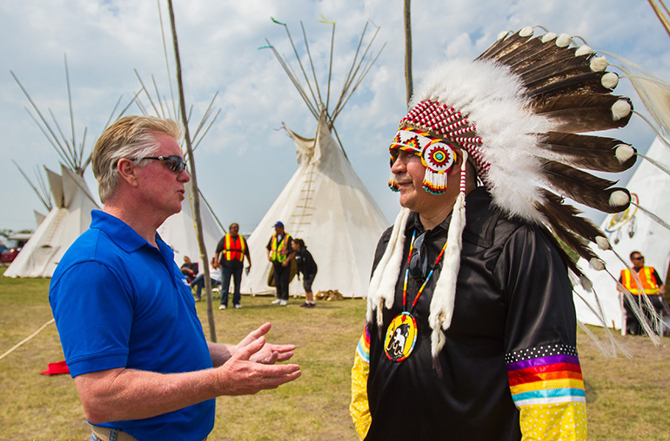 National Aboriginal Day
Jun 19, 2015, 13:24 PM
National Aboriginal Day (NAD) takes place on June 21, 2015. It is a special day to celebrate the unique heritage, diverse cultures and outstanding achievements of First Nations, Inuit and Métis peoples in Canada.

At FortisAlberta, we value our relationships with the aboriginal communities we serve and we're diligent about involving community members while working directly on their lands and within their traditional territory. There are 20 individual First Nations and two Métis Settlements in our service territory. These relationships are maintained by one of our Stakeholder Relations Managers who has more than thirty years' experience in aboriginal relations.

One way we work to foster positive relationships is through an internal practice that requires Aboriginal people from the area to be hired to work side-by-side with our employees and contractors for new projects or maintenance work on Aboriginal lands. This helps community members understand in their own language the work to be done and it assists with obtaining permission for this work when required.
We continue to work with First Nations and Métis Settlement training and employment departments in the hiring of these liaisons to work with us on several maintenance and brushing projects as well as the ongoing installation of power lines on traditional lands.
We also sponsor several Aboriginal initiatives including the Aboriginal Role Model of Alberta Awards hosted by Enoch Cree Nation as well as several First Nations Pow Wows, rodeos and holiday celebrations. These contributions are often acknowledged by the Chiefs and Councils and provide us with an opportunity to show our respect to the communities and contributions of Aboriginal leaders.

In 2016, we will support a new Aboriginal Scholarship program through Lethbridge College to assist First Nations, Métis and Inuit students requiring assistance.