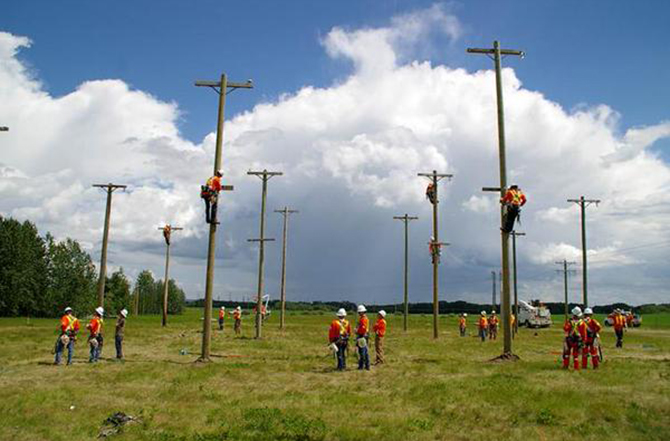 FortisAlberta receives the Awards of Excellence-Education/Training Institution Award
Nov 14, 2014, 13:15 PM
On Oct. 24, 2014, FortisAlberta received, for the first-time, the Awards of Excellence-Education/Training Institution Award, from Electricity Human Resources Canada (EHRC) for our Employee Development Centre (EDC) located in Red Deer.

Trevor Blumhagen, Manager Employee Development Centre, says "I'm truly grateful to receive this honour on behalf of FortisAlberta. We are extremely proud of our state-of-the-art Employee Development Centre, a unique facility that is one of the only training schools in Canada with an actual working substation. Through this facility, we deliver more than 40,000 hours of safety and technical skills training to more than 380 Power Line Technicians (PLTs) every year."

This award recognizes an educational or training institution that has developed or implemented curriculum, educational or training programs that address the workforce supply needs of the electricity industry by ensuring that students and/or employees have the required skill sets.

The judging panel observed an extremely strong curriculum, and noted that the average annual man hours of training are 60 hours per year. In the past, FortisAlberta apprentices have won the Alberta Top Apprentice Award through the Government of Alberta for the PLT Trade in Canada, with a female apprentice winning this year for the first time.

FortisAlberta is focused on building a skilled, diverse "next generation" workforce and brings high school students to the training centre every year as part of the Registered Apprenticeship program. As a regulated utility, we are recognized throughout the Fortis Group of Companies as a leader in training by providing the latest tools and hands-on experience for PLTs to complete their work safely and deliver excellent service to customers.